Some tortillas, soft drinks and music….a perfect hangout session with friends. But now it's time to store the foods that are left, especially the tortillas.
Because mold and mildew can ruin your tortillas. And none of us would like to ruin our favorite snacks like this.
So, how to store flour tortillas after opening?
Storing flour tortillas is not that difficult. You can keep them in the fridge, freezer, or outside. Although all of it depends on how long you are planning to store the tortillas. The freezer will be perfect if you want to store them for quite a while. The main problem to fight is mold.
There are more to properly storing tortillas. I have given detailed information about each method.
So let's find the simple but effective storing methods in the next section-
How to Store Flour Tortillas?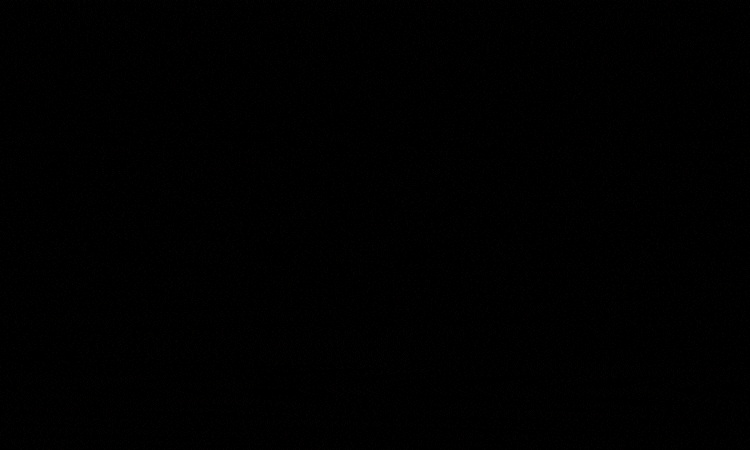 Properly storing those extra flour tortillas you bought is important. If the tortillas are not properly stored, mold can catch on. 
There are a lot of methods to store flour tortillas. The method you want to use can depend on how long you want to keep them. 
Now it's our learning time!
Method 1: In the Refrigerator 
Storing flour tortillas in the refrigerator is absolutely fine. Moreover, keeping them in the fridge has a few benefits.
Flour tortillas can be extremely sticky. If you store one tortilla over another, there is a chance of them sticking. Keeping them in the fridge makes the starch in the flour cold. So the tortillas won't stick to each other. 
Also, if you haven't used yeast, you can keep tortillas in an airtight container. I personally had the best experience using the following containers. Because they're very good in quality and super durable.
However, don't forget to clean the containers occasionally. Otherwise, they can stink at some point.
Also, tortillas that stay in the fridge have a better shelf life. Bacterias and other fungi cannot grow in the fridge or cold temperatures. 
So, how long do the flour tortillas last in the fridge after opening? 
They can last for up to 2 weeks. Which wouldn't be possible outside of the fridge. 
Also, do you live in a place where the climate is too warm? Then keeping tortillas in the fridge is the only option.
Mildews and molds grow faster in a warm climate. So, your tortillas will go bad if the weather is too hot. 
How to Store Tortillas In the Fridge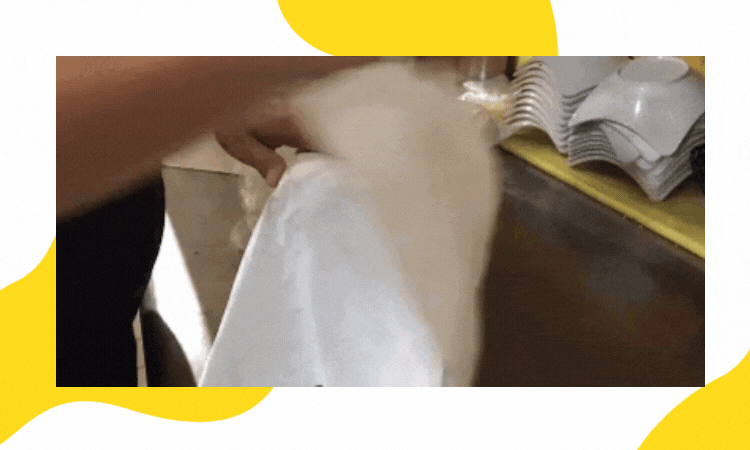 To increase the shelf life of the tortillas, you must follow specific ways to do so. So, how to store tortillas in fridge?
Step 1: Make Sure the Tortillas is in Room Temperature 
Store-bought flour tortillas can be stored in the fridge right away. But did you make them at home? Then make sure it is at room temperature before putting them in the fridge.
In this case, an instant-read food thermometer works the best. You can easily understand your foods' current temperature with it.
Step 2: Use Sealable Plastic Bags or Containers 
Sealable plastic bags are perfect to store tortillas. Some reliable plastic bags that I saw in my house for generations are-
But if you don't have one, you can buy an air-tight container that we've recommended already.  
Step 3: Use Wax or Foil Paper
Using wax paper in between the tortillas will prevent them from sticking together. I basically use the following ones-
However, you can also use excess flour in between the tortillas. 
Now, are you planning to keep the tortillas for a long time in the fridge? Then keep an eye on them. Because water droplets can form on top of them. This can make the tortillas go bad.
Method 2: In Room Temperature
Keeping tortillas outside is also an option. Though there are a few drawbacks to leaving them outside. 
If you are keeping the tortillas outside, you remember to keep them in a cool and dry place. In this case, getting an adjustable storage cabinet with doors could be a wise move.
Mold needs moisture to grow. So if the humidity is too high, there is a chance of the molds growing. That's why I use a dehumidifier in my kitchen to keep the humidity in check. 
Till now I've used some dehumidifiers. These helped me to store my food without any fear. Let's take a look at them-
But if you are thinking about how to keep the tortillas soft? Then keeping them in the fridge is the best solution.  
How to Store the Tortillas Outside of the Fridge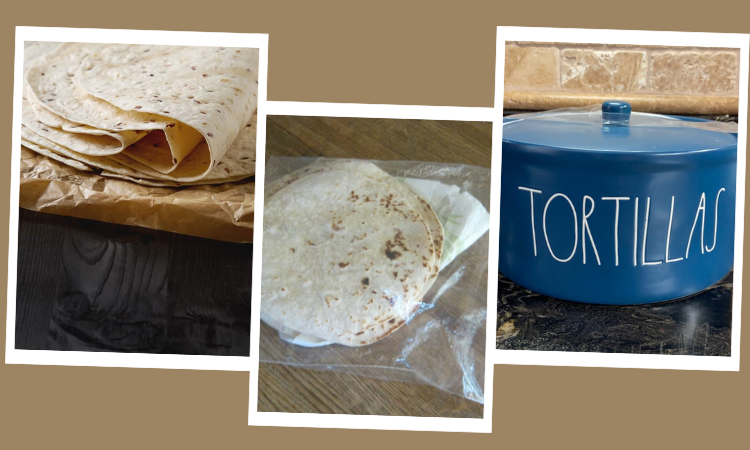 So how to store tortillas in pantry? Let's know the steps below-
Step 1: Keeping in the Original Packaging 
Keep the tortillas in the original packaging. Make sure there is no direct sunlight at the place. Otherwise, mold might find its way in high temperatures.
Step 2: Use Stainless Steel Container
It is best to get an airtight tortilla storage container. However, if you don't have one, you can keep it in a Ziploc snack bag.
Also, keeping the tortillas in a steel container can be a good choice. Just make sure it's made out of stainless steel. 
You know what, I've plenty of stainless steel containers in my kitchen. So, I believe, I can suggest the best 2-3 from there-
| Image | Product Name | Price |
| --- | --- | --- |
| | Eco-Friendly Food Storage Containers | Shop Now |
| | Canister Container Set with Glass Windows | Shop Now |
| | Container with Acrylic Lid and Locking Clamp | Shop Now |
But if you don't want to use plastic, use aluminum foil. You can wrap the tortillas with foil papers so that they won't stick. Afterward, place them in a container we've mentioned above.  
Method 3: In the Freezer 
Now, are you wondering how to store tortillas in freezer? Even if it sounds weird it's completely okay to keep them in the freezer. Because at the right temperature, they can last up to months without any mold risk. 
If you are planning to keep them for a long period, a freezer is the best option. But then again, you might think about how to heat up flour tortillas on stove afterward? 
It's not that difficult. Keep the tortillas at room temp before putting them on the stove. When it softens, you can put them on the stove. 
Often restaurants use frozen tortillas with vacuum-packed pork. Though vacuum-packed pork can smell bad sometimes. If so, don't use that meat. 
You also might be wondering, how to store homemade corn tortillas? Well, you can store them in the freezer as well.  
How to Store Tortillas in the Freezer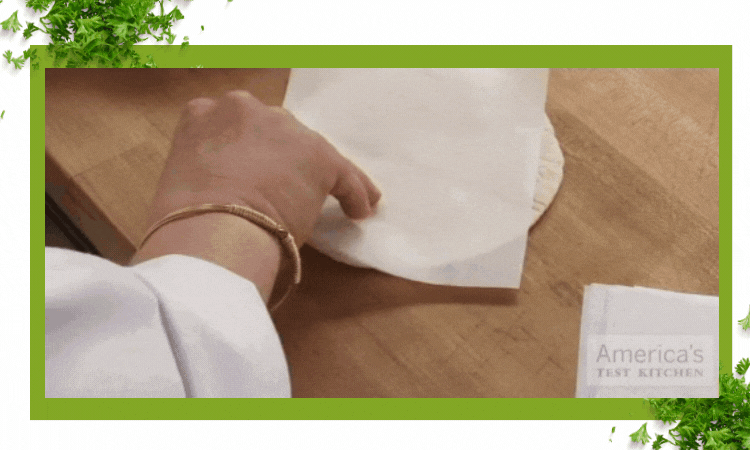 You can just keep them in the freezer with the original packaging. But it's better to follow a few things, it'll extend their shelf life. 
Step 1: Use a Sealable Bag or Container
Make sure the tortillas are in a sealable bag. I'd suggest not keeping the tortillas directly in the freezer. Other products such as raw fish and meat contain a lot of bacteria. 
Using an airtight container to store the tortillas is even better. Airtight containers can even keep the shapes of the tortillas. 
You can use a tortilla storage container to store them. The following recommended containers not only keep the tortillas fresh but warm also-
You can also watch the following video to see how you can hear your tortilla with a tortilla warmer.
However, you can also use other proficient methods to keep your tortillas warm. 
Step 2: Use Wax Paper
It's really important to use wax papers between the tortillas in the freezer. 
Because when you're freezing the tortillas, ice crystals will form between the tortillas. That'll make them stick together. And you won't be able to separate them afterward.  
So using all these ways you can store flour tortillas after opening. All of these methods are appropriate for flour tortillas. 
FAQs
How to warm frozen tortillas?
You can warm the frozen tortillas at room temperature till they defrost. Or you can reheat it in the microwave. Using the defrost setting is best in this scenario. 
How to keep tortillas warm?
Keeping the tortillas warm can be challenging. To keep tortillas warm Use aluminum foil to retain the heat. The best would be to use thermal pots which retain heat the best. 
How to cook frozen tortillas. 
To cook frozen tortillas, reheat the tortillas to room temperature using a microwave or normally. Afterward, you can sear them in your frying pan with a little bit of oil. 
Endnote
We have mentioned the best possible methods on how to store flour tortillas after opening. Hope this will help you. 
Always make sure there is something between the tortillas. Otherwise, it will be hard to separate them. 
Enjoy your burrito!